Bhutan Web Blog
This is an official blog page for Bhutan Web Designs/Hosting.
Google offers 16TB of storage in its new Google Drive
Google has launched a new consumer service offering up to 16TB (terabytes) of storage for photos and other online content.
Dubbed Google Drive, the service goes head to head with rival cloud services such as Dropbox and Microsoft's SkyDrive.
It offers 5GB (gigabytes) of storage for free. People pay on a rising scale for more space.
Experts say that Google is "late" to the market.
16TB of space could hold more than 4,000 two-hour movies coded in 720p high-definition resolution.
Cloud living.
"Today, we're introducing Google Drive - a central place where you can create, share, collaborate and keep all of your stuff," said Sundar Pichai, senior vice president of Chrome and Apps in a blog post.
"Whether you're working with a friend on a joint research project, planning a wedding with your fiancé or tracking a budget with roommates, you can do it in Drive."
The service will allow users to upload and access videos, photos, Google Docs, PDFs and other documents.
It can be installed to a Mac or PC or as an app to an Android phone or tablet. Google said that it was working on an app for Apple's mobile operating system, which should be available in the coming weeks.
For blind users, Drive can be accessed with a screen reader.
"Google Drive will hit some competitors very hard and shake up the market," said Hanns Kohler-Kruner from tech research firm Gartner.
"It will also create another stream of more focused and potential ad revenue for Google around the content of personal files on Google Drive."
Source: BBC News
| | |
| --- | --- |
| Storage | Monthly Rate |
| 25 GB | $2.49 |
| 100 GB | $4.99 |
| 200 GB | $9.99 |
| 400 GB | $19.99 |
| 1 TB | $49.99 |
| 2 TB | $99.99 |
| 4 TB | $199.99 |
| 8 TB | $399.99 |
| 16 TB | $799.99 |
Taxes and fees
Prices listed above don't include any applicable taxes or fees associated with your country of residence. You may be charged taxes or fees in addition to the prices listed above.
(Source: Google )

Features:
Access everywhere.
Google Drive is everywhere you are—on the web, in your home, at the office and on the go. So wherever you are, your stuff is just...there. Ready to go, ready to share. Get started with 5 GB free.
Google Drive is available for:
PC and Mac
iPhone and iPad (coming soon)
Android devices
Store your files in a safe place.
Things happen. Your phone goes for a swim. Your laptop takes an infinite snooze. No matter what happens to your devices, your files are safely stored in Google Drive.
Go beyond storage. Collaborate.
Google Drive lets you do more than just store your files. Share files with exactly who you want and edit them together, from any device.
Google Drive gives you instant access to Google Docs, a suite of editing tools that makes working together better—even when your teammates are miles away.
Get 5 GB for free.
Get started with 5 GB of free space. Upgrade to 25 GB for less than $2.50 a month, and you can store practically everything for next to nothing.
View anything.
Open over 30 file types right in your browser—including HD video, Adobe Illustrator and Photoshop—even if you don't have the program installed on your computer.
Google Drive with your favorite apps.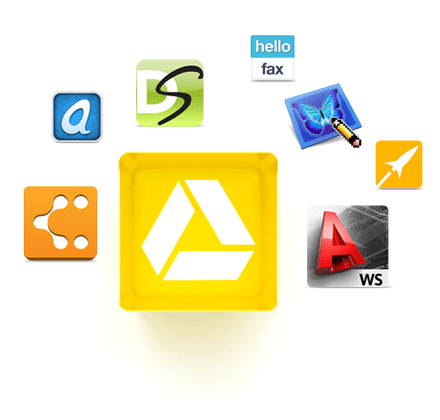 Create, open and share files from a variety of apps directly in Google Drive.
Share the way you want.

You can share files or folders with anyone, and choose whether they can view, edit or comment on your stuff.
Start a discussion.
Create and reply to comments to get feedback and make files more collaborative.
(Source: Google )